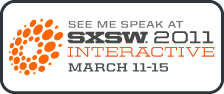 It's almost time for the geek spring break better known as South by South West (SxSW). Thousands of techies, music fans, and film buffs will shut down the city of Austin for nearly two weeks of Interactive, Film, and Music festivities! From March 11-15, I'll be attending the Interactive part of SxSW. This is also my third year speaking, and I'll co-present with first-timer  Karl Rivera on Under 25 and Rebuilding Communities Using Social Media. (Check out Karl's Blog & Twitter.)
What excites me about this panel is the diversity Karl and I will add to SxSW's usual lineup of panels. I don't mean just in terms of race. When discussing what topics that we could speak on, I remember Karl asking me about my first time going to SxSW. Immediately I thought about the lack of "gen-yers" at SxSW, at least during the Interactive part. The amount of panels that cater to the under 25 crowd are just as small if not smaller. There are around four panels that meet the criteria, including ours.
We invite you to come out and broaden our discussion about young bright minds that use social media to make some pretty big impacts. In my experience, social media does a great job of bridging the generational gap. What I don't see is an effort to bridge that gap offline. A sense of how that can be done is what I hope to take away from our Core Conversation. We wil keep you posted when SxSW let's us know what day we will officially present on. Stay tuned!
Did your panel get accepted at SxSW? Let me know in the comments so I can add them to my schedule. If I can drop by, I will!